現在10月27日の午後5時半。
関東地方沿岸には台風が接近して通過してるため、外はけっこうな
雨が降っています。
こんな時は、また大きい波が立ってるんだろうな〜〜、なんて思っ
てネットの波情報をチェックしてみると・・・。
なんと湘南だけ、波がない状態。
こんな事ってあるんですね〜。
ワタシはてっきり、台風=つねに大波だと思ってましたが、台風で
も波が立たない事ってあるんですね。
そう考えると、ある意味湘南って、すごいかも・・・。
でもなんで、台風が来てるのに波が立たないんだろう??
今度誰か教えて。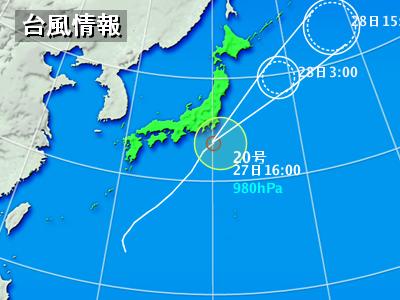 Typhoon #20 coming very close to my house area.
So heavy rain out side.
I thought "Beach has big wave ha?" and then I was check
wave information by web site.
Buuuuuuuuuut,my place area Shonan hasn't any wave today.
I don't know why. I thought Typhoon = Big wave.
But today is not.
So weird Shonan.
Nature is amazing!!